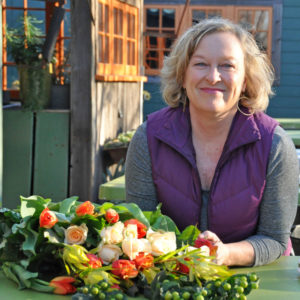 Pam Bell has 30+ years experience in the event industry. Making clients feel important is her specialty. She brings not only her expertise but also her calm and meticulous nature to each and every event. She is an ardent enthusiasts for celebrating and benchmarking the Big moments of our lives.  Pam has a unique background in that she is not only an Event Designer, Producer, and Event Florists, she is also a Life Coach and Meditation teacher. In this way she assist her clients in connecting to something deeply elemental and true. In her words…"this is not just another party, this is your life in the making!"

Experience
30+ years as Event Florists and Wedding Designer. San Francisco Bay Area, Sonoma County, Mendocino Coast.
3 years as Marketing Manager for Sonoma County Winery Association (Event Planner, Marketing, Communications.)
Four Years operating Dragonfly Floral School. Teaching floral enthusiasts of all levels the art of beautiful design and how to discover ones passion in nature.
Project Coordinator for Dragonfly Floral, a 6 acre organic flower farm. Developing educational events including: Corporate Team Building, Farm Tours, Floral Design Immersion Programs & International Tours focused on current trends in the floral and garden industry.
Seven years as Owner/Operator: Bell & Trunk Flowers – a SF based Floral Studio.
Private Event Planner: Various independent San Francisco based restaurants
Catering Director for Bay Area Hotel Chain: Coordinating and executing Weddings, Corporate Events, Life Celebrations. Sometimes playing host to 4 weddings in the same day.
Regional Manager for Virginia based Event Company – providing Decor, sound, stage, lighting & tenting to Inaugural Balls, Society Events, National Sporting Events.
Director of Food & Beverage for PGA Tour – organizing and executing the hospitality branches for National Golf Tournaments.